(Chicago Polar Bear Club/Facebook)

1. Splash
Embrace the elements and dive into the frigid waters of Lake Michigan at Polar Diving Chicago Polar Bear Club. Costumes are strongly encouraged. Be sure to pack a pair of closed shoes to wear when diving, a towel and warm clothes to change into after the dive. Funds from this year's event benefit a trio of families.
Details: Noon Saturday at Oak Street Beach, 1ooo N. Lake Shore Drive. $30; free to watch / MAP
---
2. Reflect
"Trial in the Delta: The Murder of Emmett Tillbrings to life the 1955 court proceedings that unfolded in Sumner, Mississippi. The play features key characters based on real life, including the presiding judge, attorneys, witnesses, Till's mother, Mamie Till-Mobley, and JW Milam and Roy Bryant – the two men who were found not guilty of the murder of Till but later admitted to the crime. .
Details: 7 p.m. Saturday; 3 p.m. Sunday at the DuSable Museum of African American History, 740 E. 56th Place. $25 to $45; $15 for youth, educators, seniors, activists and low-income customers / MAP
---
3. Pedal
Join other cycling enthusiasts for the Chicago Critical Mass, which aims to raise awareness among cyclists in the city center. Expect to drive slowly for a dozen kilometers on the streets of the city.
Details: 6 p.m. Friday at Daley Plaza, 50 W. Washington St. Free/ MAP
---
4. Revere
the Black History Month Celebration at Loyola Park seeks to honor the rich heritage of African American, African, and Caribbean families through music, spoken word performances, historical memorabilia, and a pop-up art exhibit featuring artwork by public school students from Chicago.
Details: 12:30-2:30 p.m. Sunday at Loyola Park, 1230 W. Greenleaf Ave. Free / MAP
---
5. Interact
"The light returns: dance and music at the temple of unityfeatures custom choreographed performances inspired by Frank Lloyd Wright's Unity Temple. Created by choreographer Winifred Haun and composer Renee Baker, the first half of the performance will be an immersive experience for viewers as they wander through the space.
Details: 5:30 p.m. and 8 p.m. Saturday at Unity Temple, 875 Lake St., Oak Park. $35 to $39; $24 for children 6 to 18; free for children 5 and under / MAP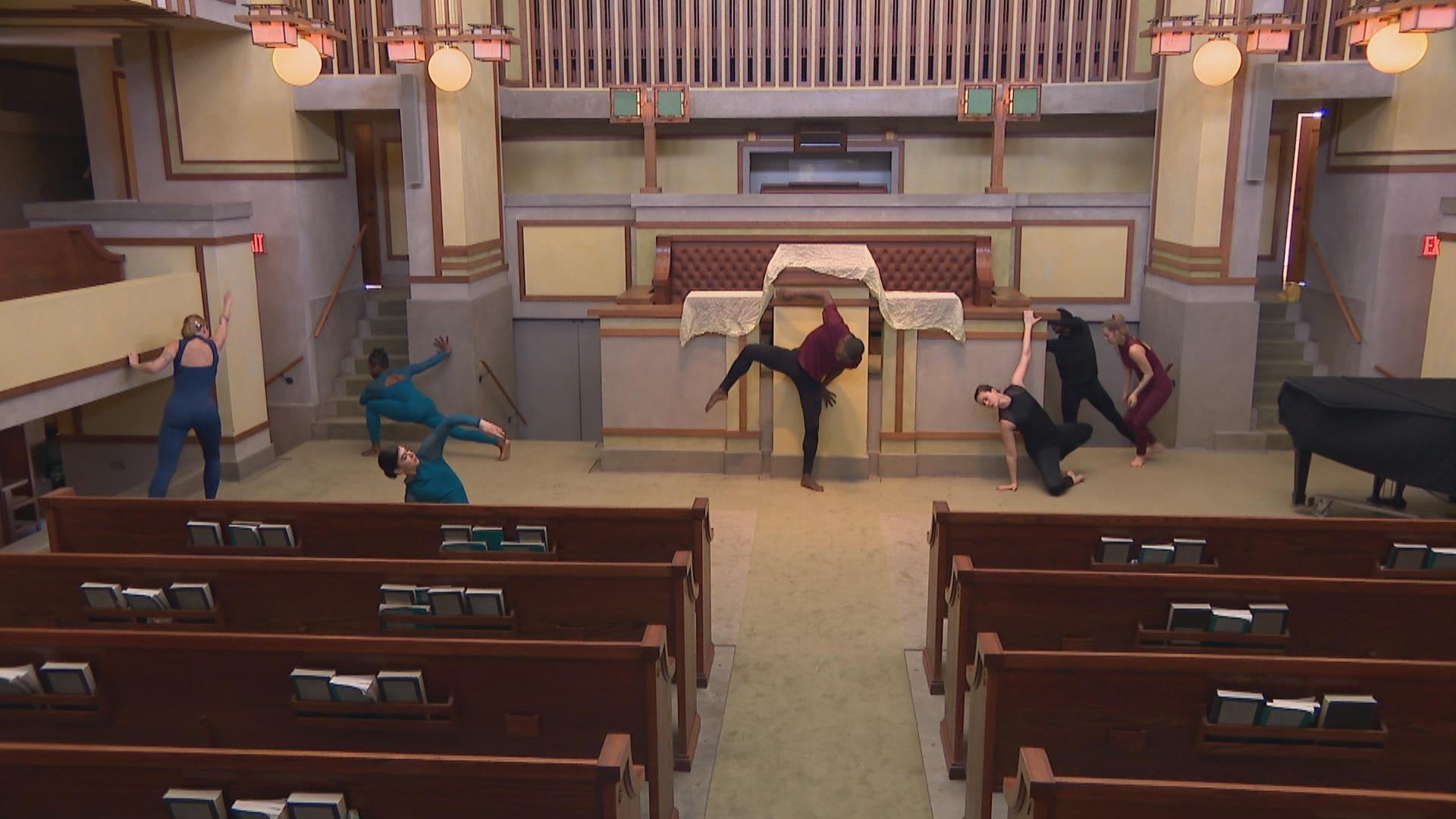 (WTTW News)

6. Browse
Local plant-based chefs and cruelty-free makers showcase their products at the Chicago Vegan Test Kitchen Market.
Details: 12-5 p.m. Sunday at Thalia Hall, 1807 S. Allport St. Free/ MAP
---
7. Jam
Goose Island Beer Company and Empty Bottle's Annual Winter Block Party Music Dance Frozen returns with performances from Divino Nino, Sweeping Promise, Pixel Grip Automatic, and more.
Details: 1-8 p.m. Saturday at Empty Bottle, 1035 N. Western Ave. Free ; donations accepted for the Chicago Coalition for the Homeless / MAP
---
8. Spacer
Discover the latest trends at Black Fashion Week 2022 showfeaturing designs from Amara Black, BelBlak Couture, Tomkat Fashion & Art Boutique and more.
Details: 7:30 p.m. Sunday at Royal Garden Banquets & Catering, 2515 N. Harlem Ave. $40 to $60 / MAP
---
9. Persist
A young interracial couple's plans to elope are interrupted when they reunite at the Lorraine Motel on April 4, 1968 – the day the Reverend Martin Luther King Jr. is assassinated. Tensions rise when the two sets of parents arrive unexpectedly to prevent their union. "Lorraineportrays the resilience of love and humanity through the lens of the King assassination that changed the civil rights movement and gave new meaning to the fight for justice.
Details: 6:30 p.m. Saturday at the Al Larson Prairie Center for the Arts, 201 Schaumburg Court, Schaumburg. $20-$25 / MAP
---
10. Wonder
Meet the largest predatory dino ever discovered at "National Geographic Live – Spinosaurus: Lost Giant of the Cretaceousand find out how this prehistoric giant was nearly lost to science before being rediscovered with the help of paleontologist Nizar Ibrahim.
Details: 2 p.m. Sunday at the Auditorium Theater, 50 E. Ida B. Wells Drive $51-$63/ MAP
---
Events listed are subject to change. We recommend double-checking times and locations before heading out the door. Want to share your upcoming events with us for consideration in a future roundup? Email us.
---