(Courtesy: Thanksgiving Parade in Chicago)

1. Gather
Giant helium balloons, marching bands, dance numbers, equestrian groups and floats are on display at the Chicago Thanksgiving Parade. Watch IRL or sit comfortably on the sofa and watch a live broadcast.
Details: 8 am to 11 am Thursday along State Street from Ida B. Wells Drive to Randolph Street. To free / MENU
---
Find more festivals: 2021 Festival Guide
---
2. Dash
Before settling into your feast, run to the Edison Park Turkey Trot. Celebrating its 25th anniversary, the event raises funds for The Cradle and the Illinois Chapter of the Alzheimer's Association.
Details: 8:30 am start of the race for children; 9:30 a.m .: 5K start Thursday at Edison Park Field House, 6755 N. Northwest Highway. $ 25- $ 35 / MENU
---
3. All aboard
The Allstate CTA Holiday Train and Holiday Bus back to the rails and streets of the city. In an effort to spread the holiday cheer – not the germs – Santa Claus and the CTA are demanding that all runners wear a face covering, regardless of their age or immunization status. Social distancing when possible and if a train or bus becomes too crowded, it may not allow additional passengers.
Details: Friday-Sunday on the CTA green line.
Trains and buses run until December 22 and 23, respectively.
---
4. Shop
Household items, artwork, gourmet foods and unique yarns are among the items for sale at Chicago Craft Market.
Details: 10 a.m.-4 p.m. Saturday and Sunday at Artifact Events, 4325 N. Ravenswood Ave. $ 8; free for children under 12 / MAP
---
5. Treasure
The classic children's holiday book, "Hershel and the Hanukkah Goblins", Comes to life with music, puppets and a little bit of magic. Watch Hershel try to outwit the goblins that haunt a synagogue and bring back the spirit of Hanukkah. Proof of negative COVID-19 test or vaccination and face masks required.
Details: 1 p.m. and 4 p.m. performances Saturday and Sunday through December 12 at the Rivendell Theater, 5779 N. Ridge Ave. Free / MENU
Morgan Lavenstein and the cast of the Strawdog Theater Company production of "Hershel and the Hanukkah Goblins". (Photo by Jenn Udoni / Franco Images).

6. Hunt
From handmade Mexican souvenirs, ornaments and nativity scenes to T-shirts and jewelry are for sale at Mercado Navideño, the holiday market of the National Museum of Mexican Art.
Details: 10 am-4pm Friday-Sunday at the National Museum of Mexican Art, 1852 W. 19th St. Free / MENU
---
7. Display
The Chicago South Side Film Festival kicks off with the world premiere of "Cicero / Mt Greenwood (1966/2016)", a short documentary by Ben Creech that compares and contrasts protest marches in the South Side of Mount Greenwood. Creech, with artist and activist Tonika Lewis Johnson, will host a post-screening discussion.
Details for "Cicero / Mt Greenwood (1966/2016)": Saturday noon to 2 p.m. at IIT Art Auditorium, 10 W. 35th St. Free / MENU
The festival continues until December 5 at various locations.
---
8. Carole
Chicago Latino Theater Alliance kicks off Millenium Park Holiday Sing-Along series. Lend your voice to the chorus of holiday tunes. Masks required.
Details: 6-7 p.m. Friday at Millennium Park, 201 E. Randolph St. Free / MENU
---
9. Acquire
More than a dozen Illinois companies showcase their products at the Small Business Saturday Chicago 2021: Neighbors Help Neighbors. The annual event includes hot drink stations and meet and greet with Dreezy Claus ($ 5).
Details: 11 a.m. to 6 p.m. Saturday at Absolutely Anything Essential, 3521 S. King Drive. Free / CARD
---
10. Shine
Timed light shows, a hill of tubes, a holiday market, and Santa's Workshop are among the highlights of AMAZE Festival of Lights.
Details: Hours vary through January 2 at Impact Field, 9850 Balmoral Ave. Rosemont. $ 18- $ 23 / CARD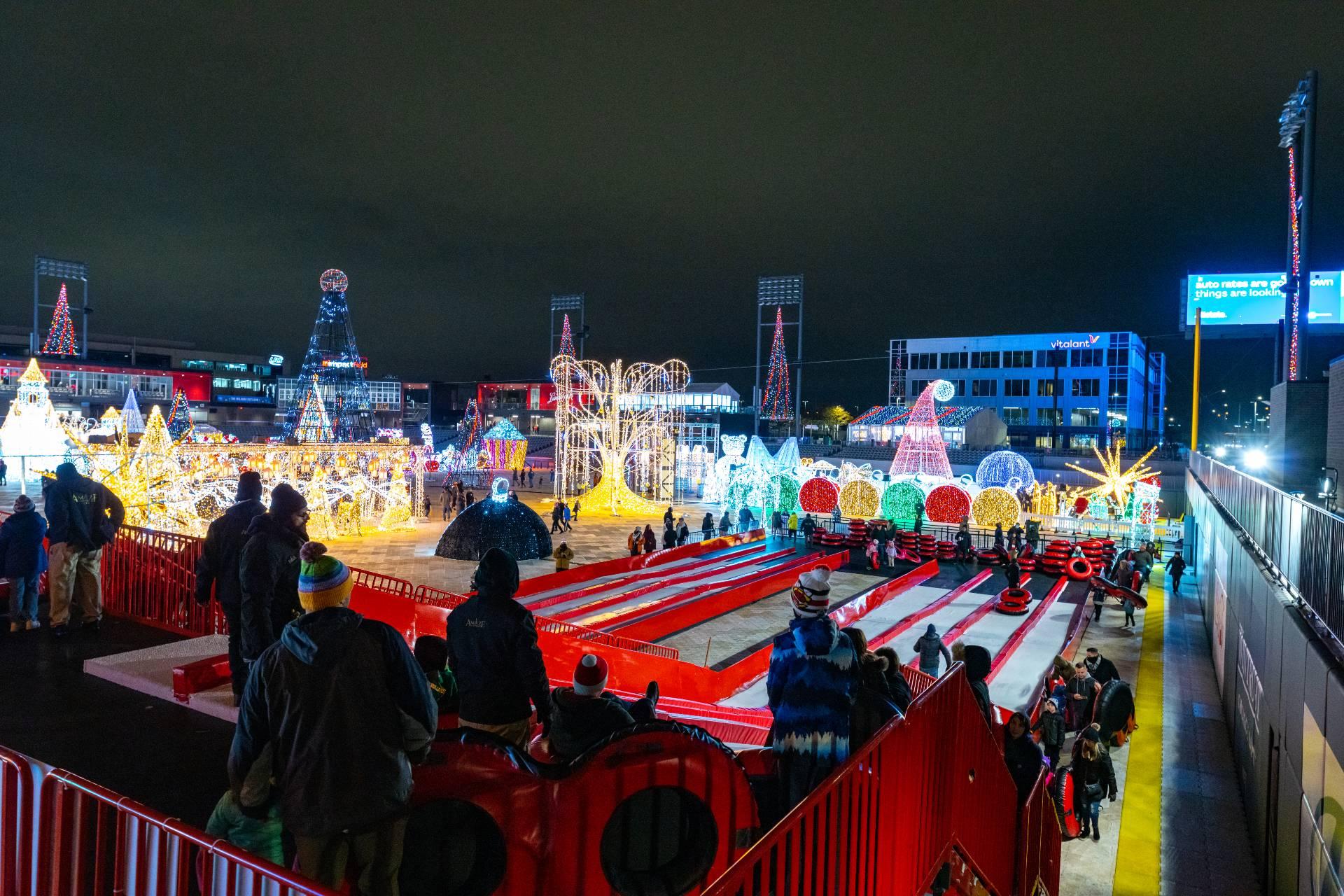 Tubing on "Thrill Hill" at the AMAZE Light Festival. (Credit: Matt Zuro)

The events listed are subject to change. We recommend that you check the times and locations before going out. Want to share your upcoming events with us for review in a future roundup? Send us an e-mail.
---