Coupled with a poor drainage system, these dilapidated roads in the BSCIC industrial zone in Chapainawabganj are flooded during the rainy season and hamper business activities. PHOTO: RABIUL HASAN
">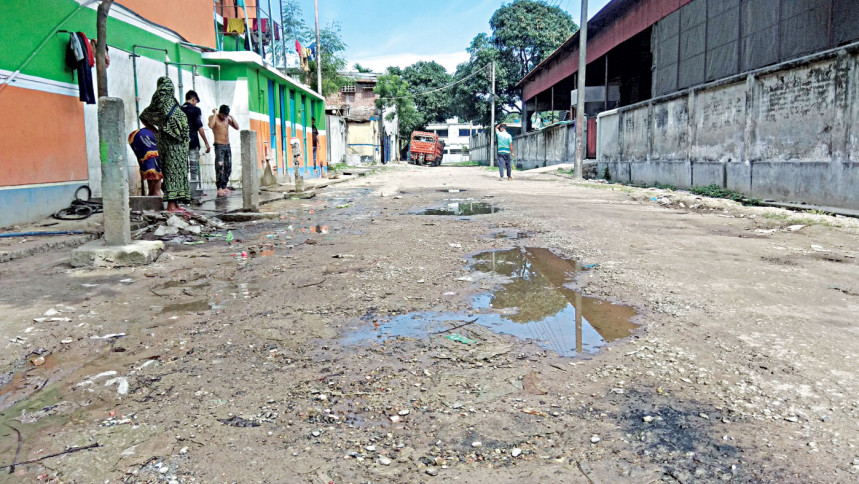 Coupled with a poor drainage system, these dilapidated roads in the BSCIC industrial zone in Chapainawabganj are flooded during the rainy season and hamper business activities. PHOTO: RABIUL HASAN
Businessmen at the Bangladesh Small and Cottage Industries Corporation (BSCIC) industrial estate in Nayagola, Chapainawabganj have long suffered from the lack of an adequate drainage system for the inland roads.
Nurul Islam, director of Sazzad Enterprise, said almost all the roads in the BSCIC area are in dilapidated condition and lack proper drainage system.
For all the latest news, follow the Daily Star's Google News channel.
The situation is particularly bad during the rainy season because the roads are submerged.
Also, investors need more land on the estate to expand production at existing factories, but since they cannot get it, businesses cannot expand in any way, he added.
However, Masud Rana, owner of Sazzad Enterprise, said that the overall situation of Chapainawabganj Industrial Zone is comparatively better than other districts.
"The BSCIC authorities recently built a gate for our safety and I believe they will expand the area soon," Rana added.
There are 22 industrial units currently in operation on the estate, some producing biscuits and bread, flour, recycled cotton and hosiery, while others are cold storage and other facilities.
There are 22 industrial units currently in operation on the estate, some of which are engaged in the production of biscuits and bread, flour, recycled cotton and knitwear, while others are cold storage and other facilities.
Rostom Ali, manager of Agro Mahananda Cold Storage, said they could not walk the roads freely despite regularly paying service fees.
"We suffer a lot during the rainy season as the transportation of goods is severely hampered when the roads are flooded," he added.
Kazem Ali, owner of Shamim Waste Cotton, said they were not getting an uninterrupted power supply, even though it was essential for the business.
"And I need more land to expand my cotton recycling plant, but I can't get it," he added.
In addition, the transport of raw materials and finished products within the industrial zone becomes more expensive and more difficult as the road conditions are deteriorating day by day.
Yet nothing is being done for factories that generate a good amount of revenue for the government, according to a number of factory owners.
Abdul Wahed, former president of Chapainawabganj Chamber of Commerce and Industry, said they have been urging BSCIC to expand the industrial zone for a long time.
If the area is large, many small and medium entrepreneurs would show interest in setting up factories on the estate, as it would provide security and safety for them.
"The repair of the roads and the drainage system should be carried out as soon as possible," Wahed added.
Raihan Ali, deputy director general of the BSCIC office in Chapainawabganj, said he established the industrial zone in 1989 while plots were allocated in 1994 with a view to developing industries and creating jobs in the district.
There are 88 plots on approximately 10 acres of land in the Chapainawabganj Industrial Zone which are currently occupied by 22 industrial units.
Ali went on to say that new roads and drainage systems would be built in phases.
"BSCIC is trying to expand its existing estates," he said, adding that they had sent a proposal to the higher authority to expand the Chapainawabganj estate by 10 acres.
If given the land, many small industries will be built as more investors come to the estate area.
"I think we will grow soon after we get approval from higher authority," he said.
"We are trying to gradually improve the field," Ali added.