Chicago Dance Crash. (Credit: Ashley Deran)

If you happened to feel the Earth moving under your feet recently (apologies, Carole King), you could very well attribute it to two events.
The first came via Chicago Dance Crash. The company, long known for its sophisticated and technically brilliant work in hip hop/contemporary dance, took the stage at the Ruth Page Center for the Arts by storm with a phenomenal piece, "Booms Day."
Then, the following evening, August 27, around 7,000 people gathered in Millennium Park to watch the Chicago Black Legacy Dance Project, a wonderfully exuberant gathering of eight stylistically different companies (as well as a jaw-dropping collection of drummers ) who presented their work on the vast stage of the Pritzker Pavilion. (Admission was free.)
These two events were the latest shining illustration of why 2022 has rightfully been named "the year of Chicago dancing."
To start, a look at "Booms Day", the 16-scene Dance Crash production directed and choreographed by the company's extremely gifted artist, Jessica Deahr, working in collaboration with James Gregg, Jimmy Weeden, KC Bevis and Annie Franklin , and incorporating the "freestyle moves and riffs" of the dancers.
With cleverly narrated moments written by Mark Hackman (and expertly narrated by Molly Harris and Christian Castro), this work, which bears the subtitle "Post-Doomsday Life, Conflict, and Relationship Goals," is a powerful riff on the notion of doomsday. And with its fabulously acrobatic vision of a post-apocalyptic world awash in tattered human relationships, it feels too close to the state of the world right now.
Ironically, the multi-faceted soundtrack (expertly crafted by Deahr, with audio recordings and mastered by Johnny Nevin) draws on more vintage-vibe music, with songs ranging from those of The Carpenters, The Police , Sufjan Stevens and the Mamas & the Papas. to Leonard Cohen, Kanye West and many more. And it works ideally. The same goes for Jeff Hancock's set design (expertly lit by Erik S Barry), which suggests a junkyard full of chairs, lamps, bikes, a clock, a 'No Parking' sign and more. , evoking both a fractured society and broken relationships. A boombox serves as an important accessory throughout the work.
But it is the phenomenal performances of this company of dancers that suggest a society overwhelmed by a full range of emotional and physical turmoil that is most gripping here. And the intensely theatrical interaction is evoked by daring feats of partnership, stylized combat, impeccable technique and the artful use of hip-hop, breakdance and gymnastic moves.
It begins in a state of "peace," as exceptional (and fearless) dancers KC Bevis and Phil Wood engage in a tremendous pas de deux. Then comes chaos and animosity in the cleverly titled "Pocalips", choreographed by Gregg and danced by Bevis, Diamond Burdine, Anna Goetz, Jack Halbert, Molly Harris, Logan Howell, Jessica Leyva, Kelsey Reiter, Monternez Rezell and Ibrahim Sabbi . The episodes that follow suggest relationships between lovers, friends and family torn apart by the forces of evil and fierce fights captured in the form of dynamically danced encounters. But a return to the hope of peace is promised at the end.
"Booms Day" will run through September 10 at the Ruth Page Center, 1016 N. Dearborn, with performances Fridays and Saturdays at 7 p.m. For tickets, visit chicagodancecrash.com.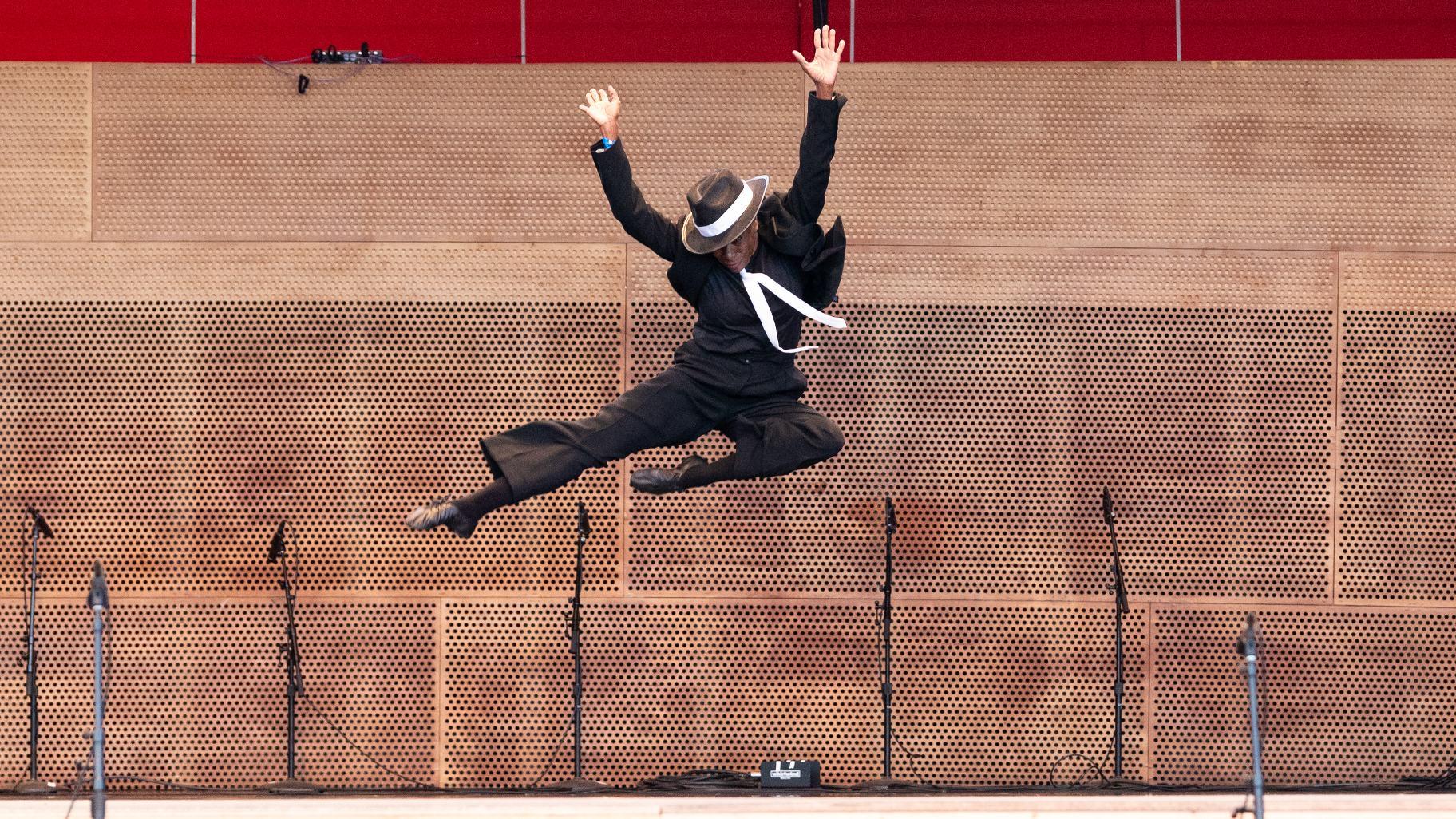 Joel Hall Dancers performed Hall's "El Gato Negro". (Credit: Shoccara Marcus)

And now for the one-night-only Chicago Black Dance Legacy Project titled "Reclamation: The Spirit of Black Dance in Chicago," a large-scale sampler that showcased the varied roots and styles of the many Chicago dance troupes that work in a wide range of black heritage styles.
The program opened with an absolutely spellbinding performance choreographed by Pierre Lockett, and danced with impressive synchrony and joy by a few dozen very young girls in red frilled suits (plus two exceptional boys in street clothes). All were part of Forward Momentum Chicago, an organization dedicated to using dance as an educational tool.
Next, the always outstanding company Deeply Rooted performed excerpts from "Episodes", an intense and powerfully danced exploration of on-again/off-again relationships choreographed by the late dancer/choreographer Ulysses Dove, a company veteran Alvin Ailey.
The Joel Hall Dancers performed the work of their namesake, "El Gato Negro", featuring stylish couples dressed in black suits, white ties and fedoras that suggested a jazzy 1920s nightclub vibe, though the piece was set to techno house music. It was a nice mix of street dancing with both jazz and modern influences.
Dancers dressed in sportswear and African fabrics took to the stage in "Power," Homer Hans Bryant's playful work for the CMDC (Chicago Multi-Cultural Dance Center). Featuring dancers in a delightful mix of pointe shoes, bare feet and sneakers, he performed with a style dubbed Hiplet – a hybrid of ballet and hip hop.
Six formidable drummers created the driving beat for Red Clay Dance Company's "Incarnation," choreographed by DuBois A'Keen.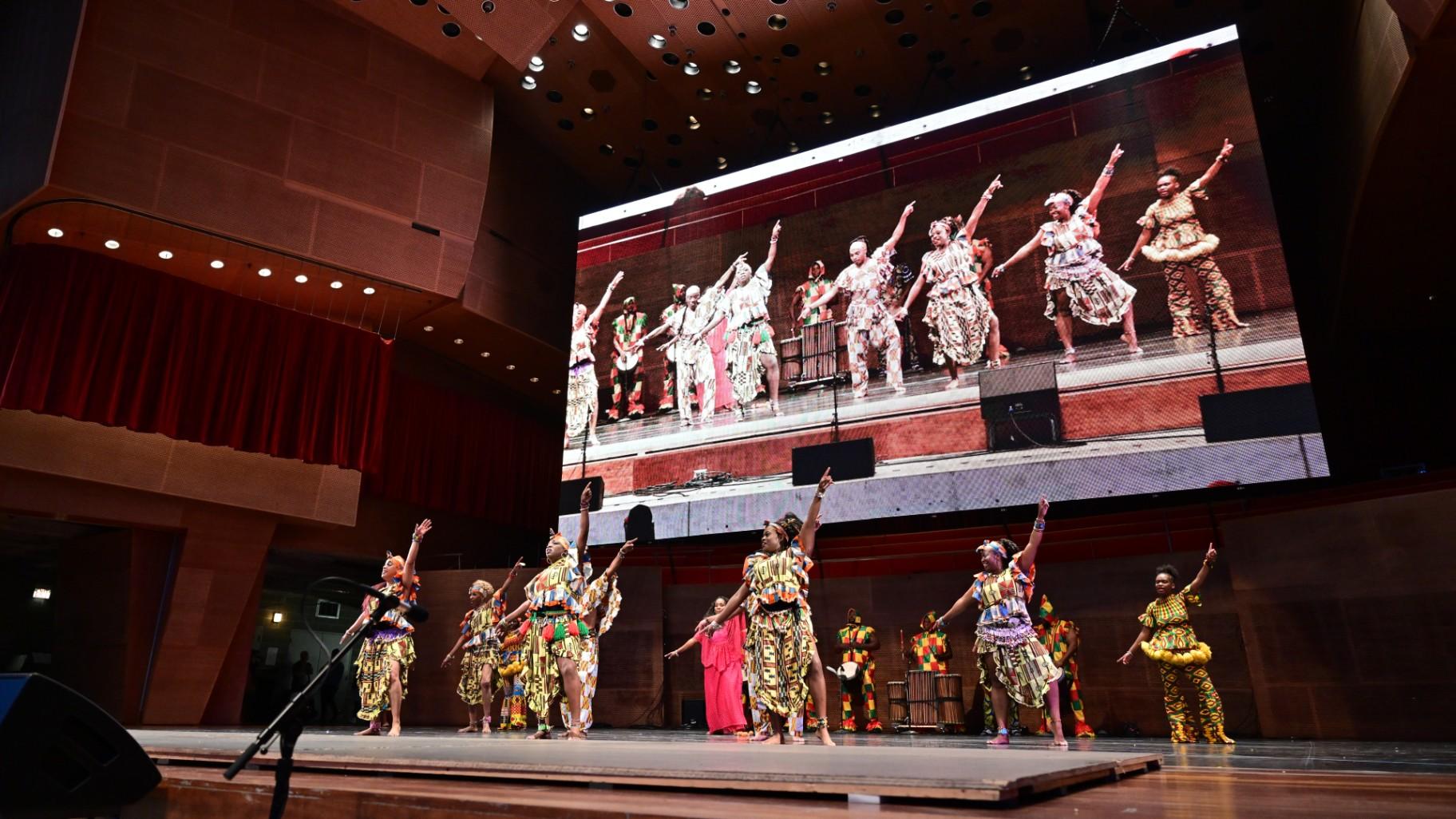 The NAJWA Dance Corps performs as part of "Reclamation: The Spirit of Black Dance in Chicago". (Credit: Patrick Pyszka)

The NAJWA Dance Corps performed superb excerpts from "Guinea Suite", a vibrant work choreographed by Mouminatou Camara. Rooted in Guinea, it was emblematic of how women celebrate the fundamental rites of their lives.
With "In the Beginning", choreographed by Starinah "Star" Dixon, the members of the MAAD Rhythms company brought a brave demonstration of tap dancing and its roots in African rhythms.
Muntu Dance Theater performed "Summer Breeze" by choreographer Cassad Abuela Hui, a wonderfully exuberant piece set on a beach in Havana, Cuba, and designed to celebrate the blending of Afro-Cuban and Caribbean styles.
And then came the Ayodele Drum & Dance Troupe, with a galvanic drum score by Weedie Braimah that had the audience dancing in their seats.
Throughout the evening, the performances were projected onto a huge video screen which made each piece fully visible to the vast audience. Like the program itself, it created a larger than life feeling.
Follow Hedy Weiss on Twitter: @HedyWeissReview
---